Information about Winds of Change 2021
10 May 2021
A network of future leaders in climate change resilience based in New Zealand and Chile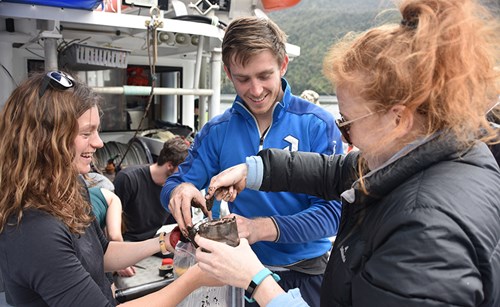 About the programme
Chile and New Zealand are neighbours that share similar geography and risks from future climate change. Although separated by nearly 10,000 km, they are linked by the strong Southern Hemisphere westerly winds that circle Antarctica and the adjacent Southern Ocean. Yet, relations between Chile and NZ are underdeveloped across the scientific and business sectors with a need for knowledge transfer of climate change impacts. The Winds of Change programme draws upon the common climate linkages to establish a New Zealand-Chile exchange and collaborative network of future leaders that can identify climate change solutions.
The first year of the Winds of Change programme in 2020 laid the foundation by establishing a network of likeminded individuals and organisations from Chile and New Zealand. Through collaborative research projects, participants evaluated common climate change impacts, potential solutions and created new links to sustainable businesses and organisations.
The Winds of Change programme will once again select postgraduate students from Chile and New Zealand and recent graduates with a general background in natural, physical or social science, business, finance, science communication, and humanities with an overall interest in climate change and developing sustainable strategies for business and policy.
Together, they will examine the similar climate change impacts their societies face, and demonstrate how this new trans-Pacific knowledge can support greater economic growth and well-being in both countries. It will also strengthen inter-university alliances established between Chilean and New Zealand partners, and develop a robust infrastructure for the ongoing work of the Winds of Change network.
Supported by their University of Otago mentors, the students who join or return to Year 2 of this programme will take part in a series of virtual and in person workshops, a week-long fieldtrip (NZ based participants), and a symposium for participants to present their research outcomes and make them available to a wider audience.
The programme will run from July 2021 to December 2021.
Who can apply?
We are seeking postgraduate students and recent graduates with demonstrated leadership skills and an interest in climate change and sustainability. We will also consider applications for undergraduates in their final year of study that have demonstrated independent research experience. We expect that these candidates will discuss aspects of this research experience in their applications. Positions are available for both New Zealand and Chile based participants. Please note that you must currently live in those countries. We are currently looking for the following to grow our network:
10 New Zealand Hons, Masters, PhD students or recent graduates (based in New Zealand)
10 Chilean Hons, Masters, PhD students or recent graduates (based in New Zealand)
5 Chilean Hons, Masters, PhD students or recent graduates (based in Chile)
5 New Zealand Hons, Masters, PhD students or recent graduates (based in Chile)
What you can expect from the programme this year:
Virtual and in person workshops from July to October
Each month, there will be two virtual workshops based on selected themes: climate change science, science communication, sustainable business practices, and climate change policy. Each two hour workshop will feature presentations by experts in relevent fields and include opportunities for discussion with network participants.
A week-long fieldtrip for New Zealand-based participants to Doubtful Sound, Central Otago and the Mackenzie Basin to get hands-on experience.
Group research and project work on a relevant topic you will select and develop based on its relevance to climate change science and sustainable businesses/organisations.
A research symposium where the participants will be able to present their project outcomes to a wider audience, including international stakeholders.
For your information, you will be required to attend the following:
9 & 23 July (workshops for introductions and networking)
6 & 20 August (workshops on climate change science)
3 & 17 September (workshops on science communication)
1, 8 & 15 October (workshops on sustainable business practices, policy, and climate finance)
7-14 November (fieldtrip for NZ based participants)
10 December (research symposium in person for NZ based participants and online for others)
You will be provided with the opportunity to:
Learn about future climate change impacts in Chile and New Zealand
Enhance your leadership skills and knowledge on climate change resilience
Be part of a growing bi-lateral network between New Zealand and Chile
Learn effective science communication techniques to convey research outcomes to a wide audience
You should have:
a general background in a field of science/business/science communication/humanities
a strong interest in developing sustainable strategies that will grow the Winds of Change network
an interest in the following categories: climate change science, social science, business & policy making
a strong interest in sustainable business and climate change strategies
a will to work with like-minded individuals from another country
Application process
Applications have now closed.
If you have any further questions, please email us at [email protected]